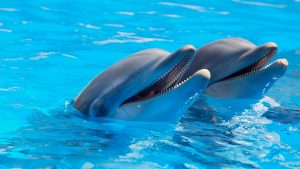 Montague Island is a tiny island located off the coast of New South Wales, Australia. This beautiful island is renowned for its breathtaking natural beauty and fantastic animal species. 
Of all the animals here, the bottlenose dolphins are probably the most intriguing and well-liked of all the species that inhabit this island. Asides from the amazing dolphins, the beautiful island is home to over 90 bird species, a colony of fur seals, and hundreds of young penguins.
If you have always wanted a dolphin encounter, you will find Montague Island enchanting. This Montague Island dolphin guide will show you how to make the most of your trip.
Take a Guided Tour 
Montague Island is truly an enchanting place. The local Yuin people in the area call the place Barunguda, which means it is a Sacred place. To protect the heritage of the locals, the island is a designated nature reserve, and visitors are obliged to adhere to particular laws and regulations to safeguard the animals' safety and well-being. 
Although there are several opportunities to enjoy dolphin swim Australia at the island, you need a reputable tour guide. Going with a tour guide like ours ensures you keep to ethical and sustainable standards during your dolphin swim NSW. 
Guided Kayak Cruises 
Getting on a guided kayak cruise is a popular swim with dolphin Australia method on Montague Island. Kayaking lets you get up close and personal with dolphins while exploring the area's breathtaking beauty and amazing animals. 
As you enjoy your day having fun and exercising, you can learn more about the island's unique history and culture through your tour guide. Your tour guide will also take some time to explain dolphins' behaviour.  
Snorkelling
Snorkelling is another popular method to swim with dolphin on Montague Island. Snorkelling cruises on Montage Island take people to deeper seas to witness dolphins and seals in their natural environment. 
That means you get the option to swim with dolphins, which is a genuinely fantastic experience. Again, you must choose a reputed tour operator that adheres to sustainable and ethical business standards. If you are interested, you can book a snorkelling trip with us. 
Watch the Dolphins from a Vantage Point 
If you don't want to get wet, pay attention, this one is for you. Across Montage Island, there are various vantage spots where you can observe dolphins from a safe distance. You don't have to worry about missing any action because you will clearly see the dolphins playing and feeding from this vantage point. Some hiking routes on the island give breathtaking views of the shoreline and other animals.
Final Thoughts 
Montague Island provides all environment and animal enthusiasts with a unique and remarkable experience. It's little wonder that many people regard this tiny island as one of Australia's hidden jewels, given its breathtaking beauty and exciting wildlife encounters. Whether you want to kayak, snorkel, scuba dive, or observe from the shore, experiencing dolphins on Montague Island is an unforgettable experience.
However, always respect these animals while on your dolphin swim NSW trip. Dolphins are extremely intelligent and friendly creatures, but they are not for amusement. 
If you are looking for a tour guide that works with ethical and sustainable standards, you can book our guided tours now.